Majority of Uganda's more than 40 million people live in rural areas and practice farming. Supporting smallholder farmers who make up the bulk of the
farming population is critical to reducing poverty, boosting prosperity, and creating jobs, especially for women and youth. Unfortunately, Uganda's agriculture
sector is plagued by a host of challenges. These include – but not limited to – too few extension officers to serve a huge farming population with
a ratio of 1:5,000 extension officers to farmers which leads to poor access to access services, low technological adoption, lack of access to quality inputs,
lack of access to affordable credit changing weather patterns and many others. The advent of ICTs, especially mobile technologies, and their rapid diffusion
in Uganda if well leveraged, can bring about major quantum jum
m-Omulimisa is an agriculture technology company that leverages ICT tools especially mobile phone technology to improve the livelihoods of small holder farmers in Uganda. Although, our service is available to all farmers across the country, our current focus is Northern Uganda especially; Apac, Lira, Kole, Oyam, Alebtong, Dokolo, Agago, and Nwoya districts. We offer a variety of ICT-based agriculture services including e-extension, agriculture insurance, agricultural loans and inputs distribution. We support smallholderfarmers to improve their access to information and services needed to sustainably increase productivity andincome.
Leveraging ICT to improve access to agriculture related servicesto small holder farmers in Uganda and beyond.
To be the leading provider of e-extension and other agriculture related services to farmers in Africa and beyond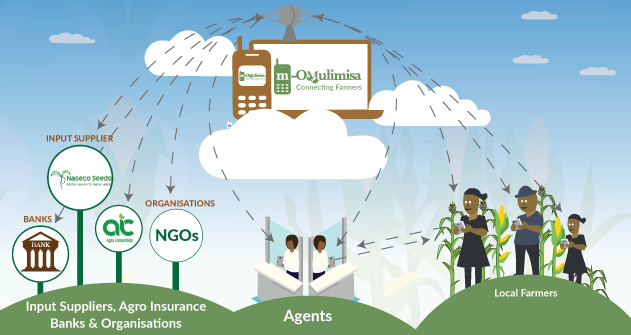 Built on his own farming experience, Daniel founded m-Omulimisa in 2014. He is a former Food Security Fellow with the U.S. Department of State Food Security at Oklahoma State University and a former ICT Fellow with the Japanese International Co-operation Agency (JICA) in Kobe, Japan. He has trained agricultural extension officers and farmers from countries including Uganda, Tanzania, Ghana, Rwanda, Jamaica, and many more on integrating ICTs in agriculture extension services. He holds a Master's degree in Telecommunication, Information Studies and Media from Michigan State University with a focus on ICTs for Development (ICT4D). Before that, he graduated with a Bachelor's degree in Information Technology from Makerere University, Uganda. He has helped many organizations to implement mobile applications for smallholder farmers in Uganda, such as Commonwealth of Learning (COL), Vancouver, Canada.
Dr. Denis Male is a monitoring, evaluation, and learning lead at m-Omulimisa. He has more than ten years of teaching and research experience at Makerere University in areas of food safety management, epidemiology, food testing systems, public health management, environmental safety, and policy analysis. As a member of the executive committee, Denis plays an active role in strategic management of m-Omulimisa, ensuring that programs and services that are offered to the community are innovative, relevant, and based on sound scientific evidence. Denis was a USAID Feed the Future Program Fellow through the Borlaug Higher Education in Agricultural Research and Development (BHEARD) program
Viola Nuwaha is an ICT4D enthusiast keen on harnessing her communication, design and data skills to build technologies that bridge the digital divide. With over 3 and a half years' experience in implementing mobile- based IT solutions for small-scale farmers and user interface/experience (UI/UX) design; Viola is a curious and creative mind intent on designing meaningful technology products and experiences for all audiences. Previously, Viola leveraged mobile and radio technologies to promote community interaction in agricultural programs that reached over 100,000 small-scale farmers across 24 radio stations in Kenya and Uganda. She brings this expertise to M-Omulimisa to handle all things communication, research and Innovation.
Obed Ssebunya Kasule is meticulous data analyst who with operates on a strong sense of urgency and is quality result oriented. In addition to hands on experience in developing secure web (mainly java, python, grails and php frameworks) and mobile applications for Android phones, Obed applies high-level data and information analysis skills to inform senior management and stakeholders of prevailing trends and key issues to support decision- making. With a vast experience in working with local communities gained from World Vision, Obed possesses the skills to build applications that not only help in overcoming today's agricultural challenges but also help in shaping a future that leverages technological advancements for better farmer productivity and increase in gain. Obed is the systems developer at m-Omulimisa. He comes in as a resource in this role to ensure that all farmer and organizational requirements are fully assessed and clearly thought through before being incorporated into our systems. As a systems developer, he also makes sure that all systems developed are well documented for the benefit of all categories of users.
Acayo Jennifer Lalam recently completed a Bachelor's degree in agricultural land use and management at Makerere University. As part of her internships in 2016, she worked with CARITAS, Gulu where her role was to work closely with farmers and identify their challenges, mostly agricultural, and provide necessary solutions. In 2017, she worked with Iowa State University Uganda Program in Kamuli where she particularly worked with students under the school gardening program to improve their diet while also earning income within the school through growing a variety of vegetables and fruits. She is an agricultural specialist at M-omulimisa, where her role includes; interacting with farmers on an e-based extension platform, developing agricultural content for dissemination and interacting with the village agents so as to ensure smooth flow of activities between the main office and the various stake holders at grass root level.
Saida is persuasive about management to ensure safe and efficient operations to see to the effect of what has to be done. With an experience of 4 years under administration and management in working with different people of different status, her bench mark is on team work to hitch up all the activities and responsibilities to achieve the desired the goal(s) Saida is passionate about Agriculture with a dedicative zeal and attitude to ensure safe and efficient operations of the projects.   She carries such an enthusiasm and expertise to M-Omulimisa handling by fully optimizing the financial and resource management, team building.
Muwawu Samuel is working with m-Omulimisa mainly as a field facilitating officer to see that the company achieves its goal and objectives. Muwawu Samuel is an International Business graduate from Makerere University aim develop and enhance his professional career in the field of Business aspects in relation to agriculture and small-scale business, to bring about economic change in order to improve human life in terms of high level of earning, saving, leading improved livelihood irrespective of gender, physical appearance and social status He has on development initiative of e-learning platform for helping rural communities improve their livelihoods through self-directed open distance learning by creating a partnership among farmers, information and communication technology (ICT) providers, educational institutions and banks Samuel is a digital ICT nomad and who has travelled the world while interacting with both farmers and people from the different sectors (M4D New Dedhli-India, Science Week Kigali Rwanda, Bright Summer School organised by Chalmers University and Bold Leader Fellow) while discussing ICT in agriculture related issues
Leveraging ICT to improve access to agriculture related services to small holder farmers in Uganda and beyond.
Enjoy Our
Products & Services
We Work With Nonprofit Organizations, Universities And Agricultural Enterprises With The Goal Of Delivering Local Farming Solutions To Smallholder Farmers In Uganda
Directions & Office Contacts
PLOT 1499, KISAASI-KYANNJA-ROAD
P.O.BOX 35999, KAMPALA
Email : dninsiima@gmail.com